Many interesting aircraft used Haddenham during the fifties and sixties. The following are extracts from the arrival and departure logs with my comments where I've deemed them necessary. The dates given may not be the only time the aircraft visited Haddenham just the more noteworthy. If anybody has the logs for the period 1946-1950 I would be very interested !
19/6/50 Me.108 SE-PBZ
Visiting Hordern-Richmond's on business.
11/7/50 Miles Nighthawk G-AGWT
This was a one-off a/c. Built in 1944 it was well known in the late forties-early fifties for its racing exploits flown by Tommy Rose.
5/4/51 Beech Bonanza OO-EXT
Belgian registered this must have been quite a surprise to people used to seeing pre-war wood and fabric Austers, Messengers and Moths.
20/4/51 Miles Messenger G-AKKG
Owned by Shell-Mex this a/c was flown by Vivian Varcoe to just about every airfield and air display in Britain on company business between 1948 and 1957.
6/6/51 Miles Mercury G-AGVX
This was again a one-off aircraft based on the Miles Messenger but with retractable undercarriage.
12/6/51 Bucker Jungmeister EC-AEX
Probably the most famous aerobatic aircraft of its time, it was owned by Prince Cantacuzino, a Romanian. He was famous for performing very low level aerobatics which usually culminated, after a seemingly normal approach and landing, with a burst of power followed by a flick-roll at 20 feet! He visited Hordern-Richmonds a couple of times over the next year.
15/6/51 D.H. 89 Rapide G-AGUR
Part of the BEA 'Islander' fleet and named 'Lord Roberts' this a/c had flown down from Glasgow with a stretcher case for nearby Stoke Mandeville Hospital.
14/7/51 EoN Olympia G-ALPV
Flown by Lawrence Wright from Dunstable this must have felt like old times!
7/8/51 Sikorsky S-51 G-AJOV
Operated by BEA as 'Sir Lamorah' this helicopter was one of a number used on an experimental city-to-city type operation which was probably way ahead of its time. On this occasion it made an emergency landing to adjust its load before continuing. This and bad weather diversions were the main reasons for this and others of its type making several diversions into Haddenham over the next few years.
15/8/51 Avro Lancastrian G-ALPF
Flown by Air Vice Marshal Don Bennett of 'Pathfinder' fame this a/c was owned by his company Fairflight and used on the Berlin Airlift and afterwards on general freighting. (Presumably this is the aircraft in the photo outside Airtech's). It was retired in November of 1951 when the airline was sold to Freddie Laker.
4/9/51 Percival Prince P.13
Landed with one propeller feathered presumably whilst on a factory test flight.
12/10/55 Gloster Meteor NF.12 WS602
Flown by Flt.Lt. Bailey this was an emergency landing on a flight from West Malling. Haddenham's first and only jet!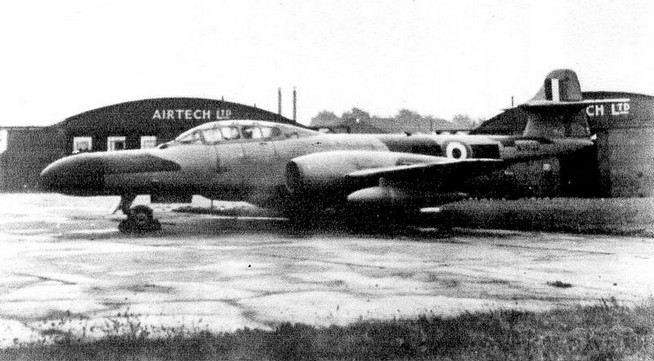 13/5/62 H.P.R.7 Herald G-APWA
This was the company demonstrator aircraft and was shortly afterwards flown for 99 hours by Prince Philip on a South American tour. This aircraft is now preserved outside the Museum of Berkshire Aviation at Woodley nr Reading.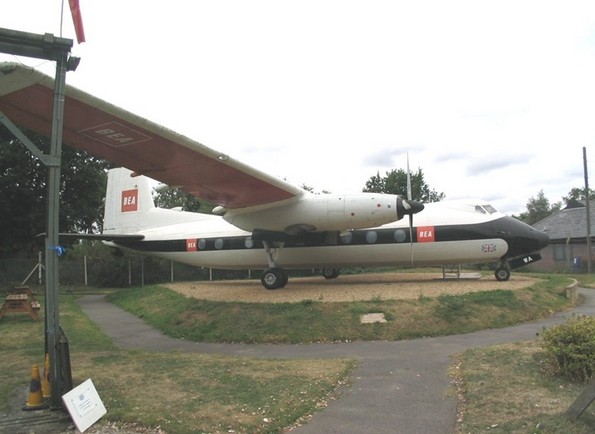 If you would like to view the complete Visitors Log for the period June 1950 to June 1991 and have Microsoft Excel, then click here Haddenham Visitors.XLS.