Home
Whilst Thomas Cholmondeley Tapper and Dennis Fox had been getting the airfield up and running they were approached by a friend, the Duke of Richmond & Gordon, (in partnership with Edmund Hordern who had been the Heston Aircraft Co.'s test pilot), with a proposal to build a factory on the airfield to make aircraft propellers using a new process known as 'Hydulignum'. This was a high-density wood laminate, (Lignum Vitae is so dense it doesn't float, from the West Indies it is also known for its medicinal properties) and was soon to be used on various aircraft including I believe aircraft of Wellington size.

Early in 1939 the Hordern-Richmond Co. leased 4 acres of CTF land on the south eastern edge of the airfield next to Windmill Road and soon built their factory there.

Windmill Road just before work started on the propeller factory.
| | |
| --- | --- |
| | Wartime production of propellers was very large and the blades came in all shapes and sizes as can be seen in this picture of the factory floor. |
During 1942 trials were carried out on a Curtiss Tomahawk fighter, replacing the usual metal propeller blades made by Curtiss-Wright with Hordern-Richmond's wooden blades. The machine was borrowed from the RAF at Boscombe Down. The results were encouraging and several samples of the material were sent to America with the proposal that the process was used under license in the US.
It's believed the pictures below may have been taken at Kidlington airfield but this has not been confirmed. I have included them for their rarity if nothing else.
| | |
| --- | --- |
| | |
| | |
| | This shot shows Edmund Hordern with two Curtiss-Wright reps. |
A rather poor view of Hordern's Tipsy Trainer G-AFKP in RAF trainer colours. It was initially used as a trials aircraft for propeller coverings and then occasionally for Air Training Corps joyrides before being grounded by the authorities.

Copied from www.tipsy-histories.com with the permission of Willem Ronge.
After the war Hordern-Richmond ventured into the new world of helicopters and produced main rotor blades for Bristol Helicopters including the Sycamore in 1947.
Hordern-Richmond continued in business until 1954 when it merged with Permali Ltd. A new site was set up in Gloucester in 1956 and the Haddenham factory closed.
The Hydulignum process is still used today by Permali. Click here for their site.
The following story came from Andrew Stevens:
Hordern-Richmond managed the Risborough Furniture factory for most if not all of the war. My grandfather had worked in the furniture trade in Wycombe prior to the war. For three and a half to four years during the war he worked night shift ( 7.30 pm until 7 am ) for Hordern-Richmond making propellers in Risborough Furniture's factory. On more than one occasion my father remembers cycling down from Bledlow Ridge to Risborough, usually taking food down, and being allowed in by the gate keeper to see my grandfather and watch him work. My father would have been aged between 6 and 11 at the time.

When the war ended my grandfather stayed with Hordern-Richmond transferring to their Haddenham factory. My father started there when he left school. At that time, in addition to propellers they were making shuttles for weaving looms. He left in 1952 to do his National Service and by the time he finished they had moved to Gloucester. Dad then transferred into the furniture industry in Wycombe, at Parslows, then Glenisters and lastly to Hands where he stayed for 30 years until he retired.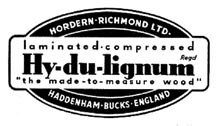 ©Copyright Peter Chamberlain, 2014