The following quote from Lawrence Wright's 'The Wooden Sword', (surely the best book on British military gliding ever written), will give the best impression of what they found:-
"In the dismal light of a wet winter, it looked a small field; less than half a mile each way. There were trees on two sides, a factory in one corner, and on a third side a deep railway cutting that recalled the title of the surrealist picture 'Garden Aeroplane Trap'. When a train passed, a wall of steam rose in the cold damp air and blotted out the approach view with a suddenness that promised to be disconcerting. The run was ample for Tigers, which could pull sailplanes out of half it's length, but it might be tight for the eight-seater when it came. There were no tracks or paths: you drove in through a field-gate across a threshold of mud and cow dung. The ground varied from old ridge-and-furrow, alternately hard and soft, to patches of new grass and standing pools....... To make it finally and completely uninviting to incoming (enemy) aircraft, the field was dotted haphazard with old motorcars; it looked like the fairground Dodgems when the current is switched off....... There was a tiny hangar for light aircraft, three of them if their wings folded; but no other building, not a hut, not a tent, and of course no services."
The Glider Training Squadron arrived at Haddenham on New Years Day 1941. The first five Tiger Moths at 12:45, (within one minute of their ETA despite bad weather en-route), and the road parties including the gliders in their trailers later that evening.
Thus 'R.A.F. Thame' was born.
Headquarters was initially in Yolsum House, home to a retired Colonel, next to the airfield but soon moved to No.8 Church Road in Thame itself. The lower ranks were housed with help from the local Searchlight Battery Commander (343 SL Bty, Rycote Wood) in the Workhouse! Others including Lawrence Wright were billeted at Lord Lochores home in nearby Chierseley. The Officers Mess was in 'The Swan' in Thame! (Yolsum House was demolished in 1988 to make way for Waterslade Pens).
The first gliders to arrive were five Kirby Kites and it was this type that was to become the mainstay of Army training for nearly a year. These were chosen by the fact that they were just about the only pre-war British glider that had been built in anything like substantial numbers. The GTS was to have fifteen on its books before too long, almost the entire production run.
That first day because of the lack of hangarage the aircraft were to remain outside, almost certainly the first time this had happened to the gliders. It was at this time that due to freshly applied camouflage, that the various components of the Kites were mixed up when they were rigged. This way, wings from one Kite were attached to the fuselage of another using the struts of a third. Apparently they still flew OK. That first night a thick layer of snow fell which lasted a week but even this didn't stop flying which began on the 4th. Having flown myself from Haddenham in January I can only give full marks for those pilots flying open-cockpit aircraft, both tugs and gliders, in such weather, but then there was a war on.
The first hut was found in a local builder's yard in Thame and this became a combined Glider Repair Shop and Crew Room.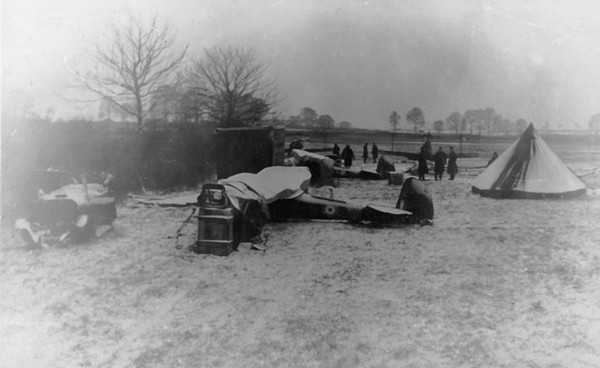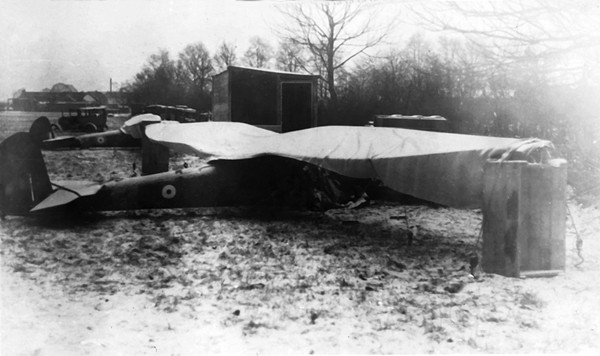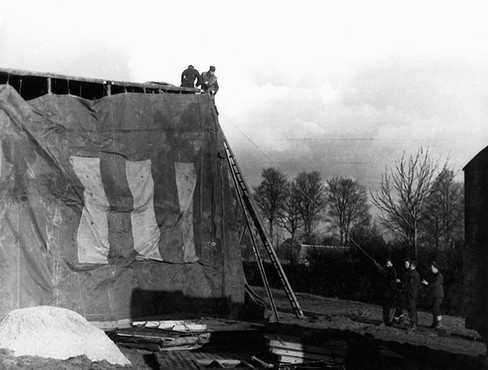 RAF Thame's first hangar, a First World War 'Bessoneau'.